This past April, I had the great pleasure to perform in the inaugural
Shastra Festival
at le Poisson Rouge in New York City. The festival is now releasing videos of the day's activities, and my performance of Bruno Paquet's Les arbres célestes just happens to have been chosen as their first video!

Reena Esmail, co-director of the Shastra Festival describes the piece as "like walking through a crystal forest." For the recorded tape in this piece, composer Bruno Paquet used a process of composition through aleatoric sequences, with elements of chance affecting the musical outcome. A setup of multiple tabla and vibraphone are played with falling projectiles. A cloth was laid out over the vibraphone with holes cut out to expose the correct notes, which were then struck by the falling projectiles, liberated in waves. The musical sequences on tape were then treated and combined with live tabla, which provides the counterpoint. The contrast between the warmth of individual life, the coldness of cosmic space, fantastic and celestial is created by the combination of live tabla and prerecorded tape, a feeling that the composer experienced during Montreal's ice storm of 1998. 

I realize that I haven't had a chance to blog about the festival, which was truly wonderful, so in the meantime, here is the festival poster, which gives an excellent overview of the day's activities: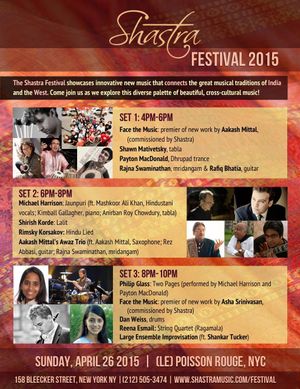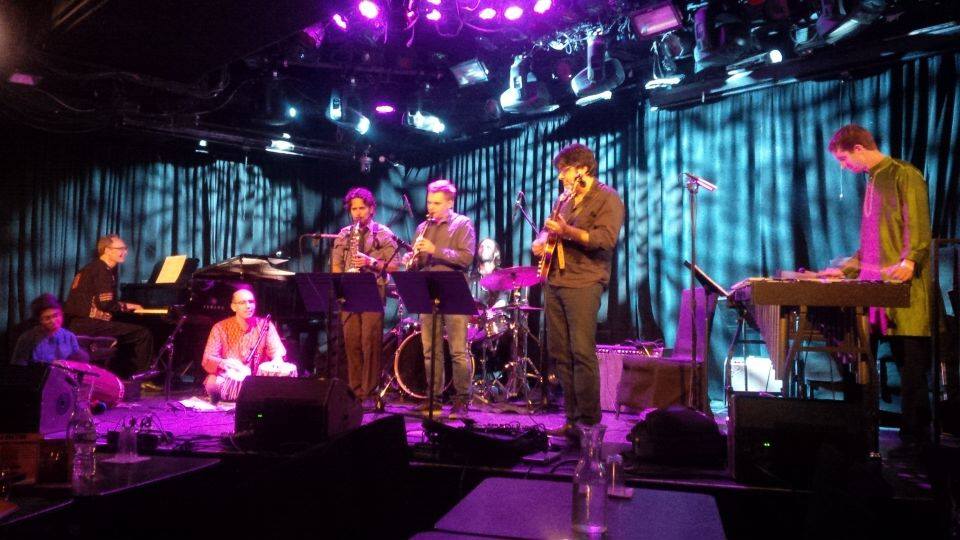 Final jam to end the festival, with 
Rajna Swaminathan, Dan Weiss, Aakash Mittal, Shankar Tucker, Rez Abbasi, Michael Harrison, and Payton MacDonald. Honoured to have been part of it.