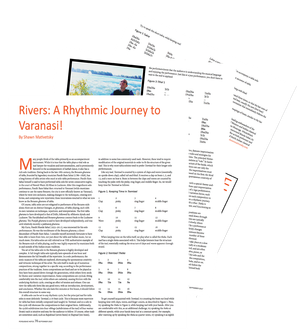 I was recently asked to write an article for Percussive Notes magazine, which is a publication of the Percussive Arts Society. The intention of this article is to give some insight into the structure of a Benares-style tabla solo, ahead of my solo performance at PASIC in Indianapolis this November. Of course, this article just touches the surface, as this is a very complex and rich subject, however it should definitely help to better understand what is going on musically, and to be able to follow the overall form. I hope that you will find this article to be of interest, and that it will help to demystify the tabla solo structure somewhat.
Here is a link to the full article in PDF format.
I'm looking forward to this showcase performance, where I will play a full-length tabla solo, accompanied by Neeraj Mehta on harmonium. The solo will be inspired by the materials recorded on my latest album, Rivers.