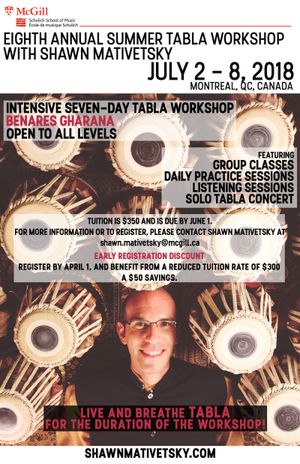 It gives me great pleasure to announce that for the fourth year in a row, a scholarship is available for this year's annual summer tabla workshop! Thanks to a generous donor, the scholarship will cover the $350 tuition fee for one lucky student, who might not normally have been able to afford to attend otherwise. Additionally, if the participant does not have tabla, a pair of tabla will be made available for the duration of the workshop. The workshop takes place daily, from July 2 to 8, 2018, at the Schulich School of Music of McGill University, Montreal. 
To apply, please submit the following to shawn.mativetsky (at) mcgill.ca : 
- Name, address, telephone number, e-mail address 
- A video, not longer than five minutes, demonstrating your tabla playing. It is recommended that you upload as a private video on a video hosting site (YouTube, for example), and to then e-mail the URL. (If you have never played tabla before, please contact Shawn to discuss alternatives.) 
- A letter, maximum 500 words, detailing your goals with regards to tabla and your intentions for the workshop. As the aim of the scholarship is to offer financial assistance to a student who would not normally be able to afford to attend, it is important that this subject be addressed as well. 
Candidates have until March 1 to submit their applications. The successful candidate will be notified by mid-March. Late applications will not be accepted. 
For more about the Annual Summer Tabla Workshop, please click here. 
For those on Facebook, the event page is here. 
---
Il me fait grand plaisir d'annoncer que pour une quatrième année consécutive, une bourse sera disponible pour l'atelier de tabla annuel! Grâce à la générosité d'un donateur, la bourse couvrira les frais de scolarité de 350$ pour un étudiant chanceux, qui ne serait normalement pas en mesure de se permettre d'y assister autrement. En outre, si le participant n'a pas de tabla, une paire de tabla sera mise à sa disposition pour la durée de l'atelier. L'atelier aura lieu tous les jours, du 2 au 8 juillet 2018 à l'École de musique Schulich de l'Université McGill, Montréal. 
Pour postuler, s'il-vous-plaît faire parvenir ceci à shawn.mativetsky (@) mcgill.ca: 
Nom, adresse, numéro de téléphone, adresse courriel 
​Une vidéo, pas plus de cinq minutes, vous montrant en train de jouer du tabla. Il est recommandé que vous téléchargiez votre vidéo sur un site d'hébergement (YouTube, par exemple), et puis de faire parvenir par courriel l'adresse URL. (Si vous n'avez jamais joué de tabla auparavant, s'il-vous-plaît communiquer avec Shawn pour discuter des alternatives.) 
Une lettre, de 500 mots maximum, précisant vos objectifs en ce qui concerne le tabla et vos intentions pour l'atelier. Comme le but de la bourse est d'offrir une aide financière à un étudiant qui ne serait normalement pas en mesure de se permettre d'y assister, il est important que cette question soit également traitée. 
Les candidats ont jusqu'au 1 mars pour soumettre leur application. Le candidat retenu sera avisé en mi-mars. 
Pour plus d'informations à propos de l'atelier, cliquez ici. 
Pour la page Facebook, cliquez ici.