This page is dedicated to Guru-ji, my tabla teacher. I cannot possibly express how lucky I am to have met Guru-ji, who so warmly welcomed me into his family, and who so generously shared with me his immeasurable knowledge. I will always cherish the wonderful times that we had together. He will be greatly missed.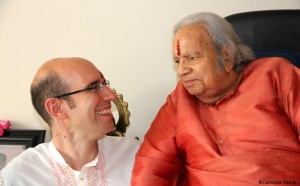 Pandit Sharda Sahai (1935-2011)Pandit Sharda Sahai
 was born in Benares in 1935, a direct descendent of 
Pandit Ram Sahai
, the founder of the Benares 
gharana
 of tabla playing. With the inherent gift in his blood of the finest traits of the Benares
baj
, he began at an early age to learn tabla from his father, the late 
Pandit Bhagvati Sahai
. Following his father's demise in 1946, he became a disciple of the inimitable 
Pandit Kanthe Maharaj
, himself a disciple of Panditji's grandfather, 
Pandit Baldeo Sahai
. 
Pandit Sharda Sahai started his professional career at the age of nine, performing both as a soloist and as an accompanist. He made his major public debut when he was sixteen, appearing at the Italee Music Conference in Calcutta with the sarod maestro Ustad Ali Akbar Khan. His professional activities in India have included appearances as soloist and accompanist at all of the important music conferences and festivals as well as performances with every major artist of North Indian classical music.
 
He was awarded "A Grade Artist" status by All India Radio in 1965. Also in 1965, he founded the 
Pandit Ram Sahai Sangit Vidyalaya
, an institute for training in classical music and dance, located in Benares.
Cette page est dédiée à Guru-ji, mon professeur de tabla. Les mots ne peuvent exprimer à quel point je me sens privilégié d'avoir rencontré Guru-ji, qui m'a si chaleureusement accueilli dans sa famille, et qui a si généreusement partagé ses incommensurables connaissances avec moi. Je chérirai toujours les merveilleux moments que nous avons partagés ensemble. Son absence laissera un grand vide.
Pandit Sharda Sahai (1935-2011)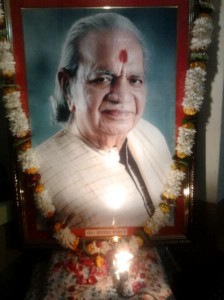 Pandit Sharda Sahai
, né à Bénarès en 1935, est le descendent direct de 
Pandit Ram Sahai
, fondateur du style de tabla de Bénarès. Héritier des traits les plus subtils du style de Bénarès, il commence très jeune à apprendre le tabla de son père, feu 
Pandit Bhagvati Sahai
. À la suite de la mort de son père en 1946, il devient disciples de l'incomparable 
Pandit Kanthe Maharaj
, lui-même disciple du grand-père de Sharda Sahai, le 
Pandit Baldeo Sahai
. 
Pandit Sharda Sahai commence sa carrière professionnelle à l'âge de neuf ans comme soliste et accompagnateur. Il fait sa grande apparition publique à l'age de seize ans au cours de l'Italee Music Conference à Calcutta, aux côtés de Ustad Ali Akbar Khan, maestro de sarod. Parmi ses activités professionnelles en Inde, mentionnons ses prestations en qualité de soliste et d'accompagnateur dans tous les festivals et conférences de musique d'envergure ainsi qu'aux côtés de tous les artistes prestigieux de musique classique de l'Inde du Nord.
 
En 1965, il est reconnu comme artiste 'A Grade' par All India Radio. Toujours en 1965, il fonde le Pandit Ram Sahai Sangit Vidyalaya, institut de formation en musique et danse classiques, à Bénarès.
Pandit Sharda Sahai has performed over one thousand concerts worldwide. His solo performances have been broadcast on All India Radio's prestigious National Program. His accompaniment experience includes every major artist of North Indian classical music- among others: sitarists Pandit Ravi Shankar, Ustad Vilayat Khan, and Pandit Nikhil Banerjee; sarodists Ustad Ali Akbar Khan and Ustad Amjad Ali Khan; violist Pandit V.G. Jog; and dancers Pandit Gopi Krishna, Pandit Birju Maharaj, and Smt. Sitara Devi.
Pandit Sharda Sahai a donné plus d'un millier de concerts dans le monde entier. Ses interprétations solo ont été diffusées sur toutes les ondes de la prestigieuse All India Radio. Quant à son expérience à titre d'accompagnateur, il a joué aux côtés de tous les grands artistes classiques de l'Inde du Nord dont les sitaristes Pandit Ravi Shankar, Ustad Vilayat Khan et Pandit Nikhil Banerjee, les joueurs de sarod Ustad Ali Akbar Khan et Ustad Amjad Ali Khan, le violoniste Pandit V.G. Jog et les danseurs Pandit Gopi Krishna, Pandit Birju Maharaj et Smt. Sitara Devi.
In February, 1970 Pandit Sharda Sahai made a highly successful tour of Europe, the United States, and Canada with sarodist Ustad Amjad Ali Khan. His tabla playing made a powerful impression everywhere he played, and in September, 1970 he returned to the United States to accept an appointment as Artist in Residence with the World Music Program at Wesleyan University. He remained with Wesleyan University for five years, during which time he was also a visiting professor at Brown University and Berklee School of Music. Panditji's superb ability as a performer is matched by his ability as a teacher. Few Indian musicians of his caliber have held as many teaching positions at such prestigious western universities. In recent years he divided his time between busy teaching schedules, annual summer tabla training programs in the U.S. and Canada, and the administration of the Pandit Ram Sahai Sangit Vidyalaya in the U.K. In the U.K., he was a Senior Lecturer at Dartington College of Arts for six years, and also taught tabla at Leeds University and Oxford University.

Pandit Sharda Sahai's reputation as a tabla virtuoso in India and in the West is unmatched. His position as the direct descendent of Pandit Ram Sahai, the founder of the Benares tabla baj (style), endowed him as the bearer of a prodigious and closely guarded repertoire of composed material. As the fountainhead of the Benares Gharana, all of his performances were paradigms of the popular and respected Benares style. Many of the younger generation of tabla players and even some older players, from within the Benares Gharana and from outside the gharana, look to Panditji's playing as the authoritative model of the Benares style- a style which many tabla players attempt to emulate and incorporate into their own repertoires.
En février 1970, Pandit Sharda Sahai effectue une tournée couronnée de succès en Europe, aux États-Unis et au Canada, en compagnie de l'interprète de sarod Ustad Amjad Ali Khan. Partout où il joue, son style de tabla émerveille. En septembre 1970, il retourne aux États-Unis pour devenir artiste en résidence à l'Université Wesleyan, dans le cadre du programme de musique du monde. Il y reste cinq ans en plus d'être professeur invité à l'Université Brown et à la Berklee School of Music. L'incomparable talent de Pandit Sharda Sahai n'a d'égal que ses dons d'enseignant. Peu de musiciens indiens de son calibre ont occupé autant de postes d'enseignant à des universités occidentales aussi réputées. Au cours des dernières années, il a partagé son temps entre les horaires chargés d'enseignant, les programmes d'été de formation continue sur le tabla aux États-Unis et au Canada et l'administration du Pandit Ram Sahai Sangit Vidyalaya au Royaume-Uni. Pendant six ans, au Royaume-Uni, il a été conférencier principal au Dartington College of Arts et a aussi enseigné aux universités Leeds et Oxford.

En Inde et en Occident, la réputation de Pandit Sharda Sahai en tant que virtuose du tabla est inégalée. Sa descendance directe de Pandit Ram Sahai, fondateur du style de tabla de Bénarès, fait de Pandit Sharda Sahai l'ardent défenseur de cet extraordinaire répertoire jalousement conservé. Puisqu'il est à la source du gharana de Bénarès, toutes ses interprétations constituent des paradigmes du genre populaire et respecté du style de Bénarès. Beaucoup d'interprètes de tabla de la plus jeune génération, et même certains plus âgés, à l'intérieur comme à l'extérieur de l'influence du style de Bénarès, considèrent le jeu de Pandit Sharda Sahai comme le canon du style de Bénarès, style que bon nombre de joueurs de tabla cherchent à imiter et à intégrer dans leurs propres répertoires
Though Pandit Sharda Sahai was a guardian of tradition, he was also extremely well versed in fusion of North Indian classical music with other styles. He has accompanied the well known South Indian violinist L. Shankar, and has performed jugal-bandi (duet) concerts with the leading exponents of the South Indian mridangam: Shivaraman, T. Shakaran, and R. Raghavan. In the West, he has performed with the avant garde composer John Cage, and the internationally acclaimed percussion group Nexus. At EXPO '86 in Canada, at EXPO '88 in Australia, and at the Commonwealth Drum Festival in England, he performed with the World Drum Ensemble, a conglomeration of over one hundred drummers from around the world performing on the same stage.

One of India's most renowned tabla maestros, Pandit Sharda Sahai passed away on 20th November 2011, at the age of 76 surrounded by his family in Ealing Hospital, London. Panditji was renowned as one of the greatest exponents of the Benares Baj and pioneered its development worldwide, most notably in Canada, America and the UK. Panditji hailed from five generations of master musicians and whilst he was faithful to the tradition of his ancestors he also was very much a musician of his time.

He profoundly touched all those who came into contact with him with his great wisdom, knowledge and humour. He will be remembered for his spellbinding solo performances, East-West collaborations, and skill and generosity as a teacher. His legacy will live on through his disciples and students and in the Pandit Ram Sahai Sangeet Vidyalaya which he founded in Benares in 1965 so that those outside of the tradition could have access to education in Indian Music and the Performing Arts.
 
A partial list of disciples: Sanju (Vishnu) Sahai, Deepak Sahai, Dinanath Mishra, Kishore Kumar Mishra, Shiam Kumar Mishra, Ramu Pandit, Shiv Sahai, Gobin Mishra, Ram Borgaokar, Dheeraj Mishra, Sumeet Mishra, Bob Becker, Ray Dillard, Niel Golden, Frances Shepherd, Jeff Deen, Todd Hammes, Ravi Singh, Tim Richards, Bhupinder Singh, Caroline Howard-Jones, Anjan Saha, Eric Phinney, and Payton MacDonald. Jeff Deen has created a 
memorial page on Facebook